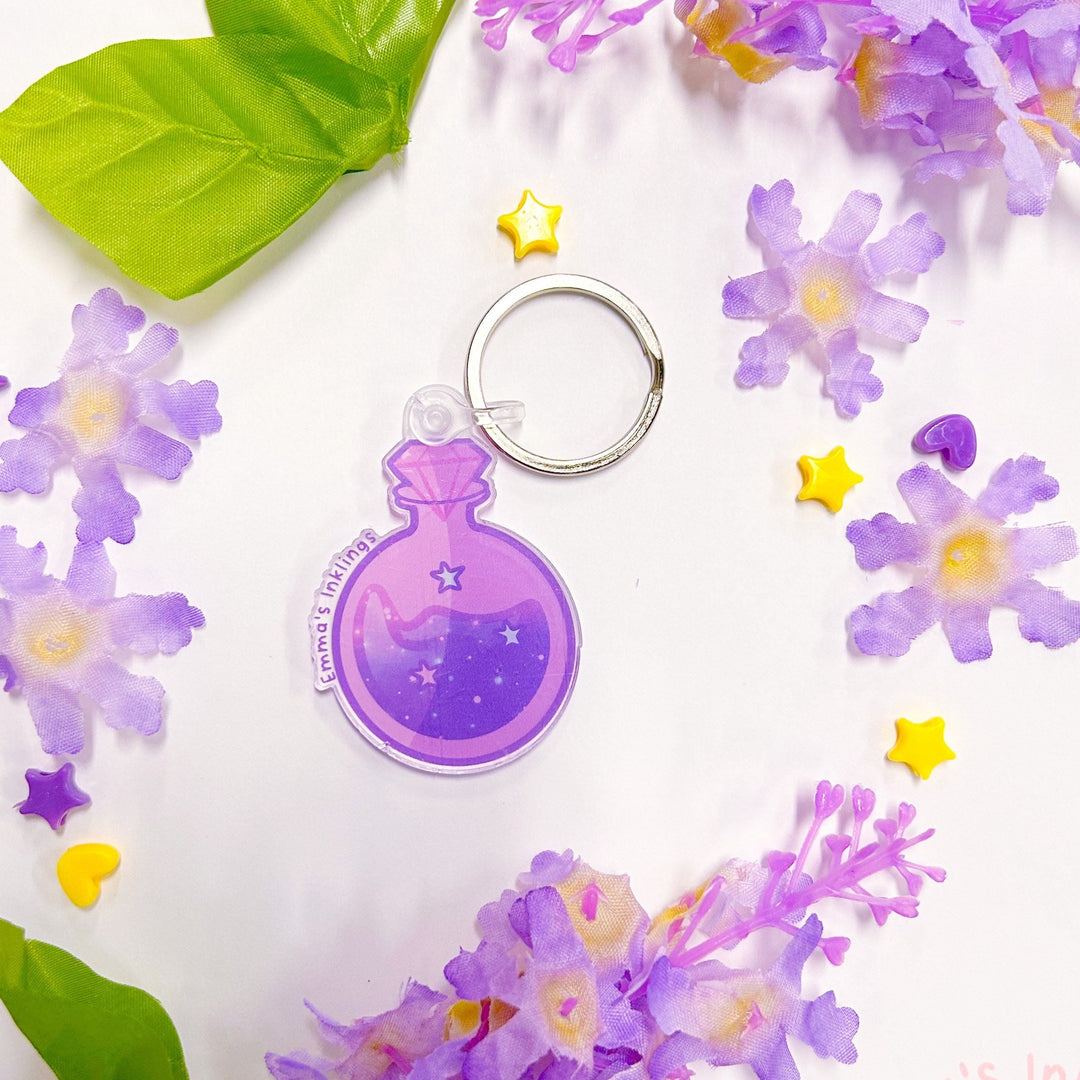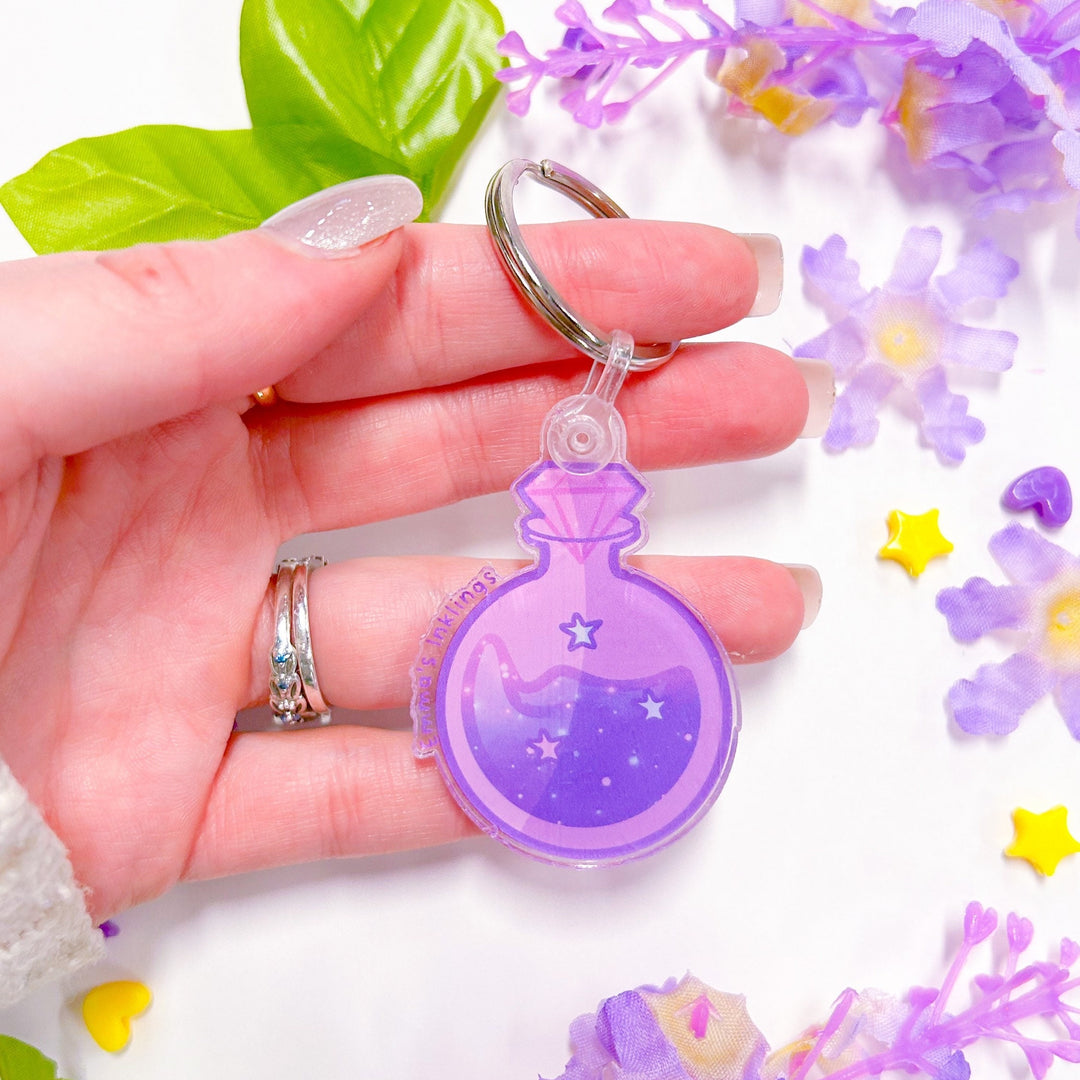 Galaxy Potion Bottle Acrylic Keychain
Regular price
$10.00
/
Tax included.
Shipping
calculated at checkout.
Low stock - 2 items left

Inventory on the way
Get this adorable Galaxy keychain. This product is shipped and sold by Emma's Inklings, which means this product can only be shipped with in the USA no global shipping. 
Use collapsible tabs for more detailed information that will help customers make a purchasing decision.
Ex: Shipping and return policies, size guides, and other common questions.
 SHIPPING & RETURNS POLICY
RETURN POLICY
Please read all directions!
ALL SALES ARE FINAL as each order that is placed is custom made for every single customer after the order has been processed. I am also a small business, I use a POD (a print on demand company for my products). 
Emma's Inklings does not accept returns, replacements or refunds in the case where the customer needs a smaller or larger size, or the address was entered incorrectly. (You can view the sizing chart on each of the products and look at all the detailed information on each product ages and please don't hesitate to contact us with any further questions before ordering.) However under certain circumstances, Emma's Inklings has the authority to make exceptions to this policy. 
Once you have clicked on the "complete order" button, unfortunately it is not possible to edit or cancel your order. However, if you need to change some parameters, like addresses, etc., please contact me via email: emma@emmasinklings.design as soon as possible. I am not bound to make such modifications to your order, but I will try my best to help you.
Emma's Inklings operates with Printful; a custom print on demand (POD) fulfillment service. It is the Customer's responsibility to file any claim with a carrier for a lost shipment if carrier tracking indicates that the Product was delivered. Unfortunately, in such case Printful will not make any refunds and will not resend the Product.
I also am using Printify another POD site in Addition to Printful. 
Damaged items (PRINTFUL):
The last thing I want is for you to be stuck with a damaged item. If it arrives to you damaged, then please get in touch with me within 14 business days after delivery. 
Along with Printful we will review replacement/return requests only:
(a) if a product is damaged (Proof of damage is required, a photo will be requested of the damaged item and please send the photo to my email; emma@emmasinklings.design) If no photo is sent or you do not wish to send me a photo of the damaged item Printful and I (Emma's Inklings) are unable to accept return, issue a refund, or replace said item.)
(b) there is a print error (Proof of print error is required, a photo will be requested of the print error and please send the photo to my email; emma@emmasinklings.design If no photo is sent or you do not wish to send me a photo of the damaged item Printful and I (Emma's Inklings) are unable to accept return, issue a refund, or replace said item.)
Photos are required for proof to make sure an item is damaged or has a print file error.
Any claims for misprinted/damaged/defective items must be submitted within 4 weeks after the product has been received. For packages lost in transit, all claims must be submitted no later than 4 weeks (30 days) after the estimated delivery date. Claims deemed an error on Printful's, or Emma's Inklings fault are covered at our expense.
The return address is set by default to the Printful facility. When Printful receives a returned shipment an automated email will be sent to me emma@emmasinklings.design. Undocumented returns get donated to charity after 4 weeks (30 days). If Printful's facility isn't used as the return address is not used for the return address (I) Emma's Inklings and Printful are not responsible for any wrong return address outcomes, and that may impact your return, refund, or replacement.
 PLEASE ALWAYS CONTACT ME BEFORE YOU CONTACT PRINTFUL, PRINTIFY OR ANY OTHER POD 
Print on demand companies are a service I use, however, I am my own individual business and if you contact them directly without contacting me first, it will be difficult for me to help you with any problems you may have. That being said; if you do contact Printful without contacting me first. I cannot be responsible for any issues related to the problem after that action is taken.
For example; If the print file is damaged, Printful cannot do anything without contacting me, because I (Emma's Inklings) uploaded the print file and only I can upload a new one. However, if that is the case, I (Emma's Inklings) will cover the cost of the damaged Print file if that is my fault. However, the customer needs to contact me first for that to happen because Printful cannot be held responsible for a damaged file I uploaded. (Printful will normally contact me if there is an issue with the file.). But Please contact me first; at my email;, emma@emmasinklings.design.
Do you Ship Internationally?
Yes I am in the process of integrating international shipping, However I am still new at understanding currencie's and exchange rates, so I will help you the best I can. 
"We can't ship to some countries because of legal restrictions or shipping carrier limitations.
There's no concrete list of restricted countries, but for now, we can't ship to Crimea, Luhansk, and Donetsk regions in Ukraine, Ecuador, Cuba, Iran, Syria, and North Korea. This list may change periodically depending on world events." (Printful)
We're available to all other countries and ship internationally!
Down Below I will link Some International Policies. 
Printful Internation Shipping: https://help.printful.com/hc/en-us/articles/360014066779-Is-Printful-available-in-all-countries-
EU Policies. 
Notification for EU consumers: According to Article 16(c) of the Directive 2011/83/EU of the European Parliament and of the Council of 25 October 2011 on consumer rights, the right of withdrawal may not be provided for the supply of goods made to the consumer's specifications or clearly personalized, therefore Printful reserves rights to refuse returns at its sole discretion.
This Policy shall be governed and interpreted in accordance with the English language, regardless of any translations made for any purpose whatsoever.
Where should I send my Damaged or Print Error Item?
Packages sent out from our US fulfillment centers are returned to our Charlotte facility. Its address: PRINTFUL is moving location: This is their new Address!: 11201 Ed Brown Rd, Charlotte, NC 28273
Meanwhile, packages sent out from our Europe location are automatically returned to our Europe fulfillment center. Its address: Lidostas parks, Marupes novads, Latvia LV-2167. 
SHIPPING POLICY (PRINTFUL)
https://www.printful.com/shipping
Estimated shipping delivery times:
COVID-19 Shipping: 4-6 weeks (we are sorry for the inconvenience) 
Normal shipping USA: 3-12 business days
Normal shipping Canada: 5-15 business days
Normal shipping World: 10-20 business days
Your order will be sent out on average within 3 business days of ordering, you will a receive a confirmation email from me, as well as Printful.
HOLIDAY SHIPPING FOR 2019 (PRINTFUL)
https://www.printful.com/holiday-order-deadlines
HOLIDAY SHIPPING FOR 2019 (PRINTIFY)
https://printify.com/blog/must-read-holiday-guide-for-printify-merchants/?utm_source=intercom&utm_medium=in-app&utm_campaign=Holiday-Tips
 International shipping: 
International shipments may have customs fees. For each country the customs policy is different, and the fee is usually based on a variety of factors like weight, value, and size.
Emma's Inklings does not take responsibility for customs fees.
Order never arrived:
If your order didn't arrive, be sure to contact me first before Printful or any other POD! (emma@emmasinklings.design)
First check your shipping confirmation and check that you had entered the correct address. If the address was incorrect, though, we'd be happy to send you another order to the correct address, it will have to be at your cost. (Shipping fee included) 
If the shipping address was correct, get in touch with me at emma@emmasinklings.design with your order number. I will see what can be done.
If after reading this, you are still confused please reach out to me; (emma@emmasinklings.design)
NOTE: THIS POLICY CAN CHANGE AT ANYTIME